Shipping Terms
International shipping cost

About International Mail
You can trace your Parcel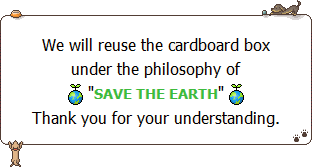 International Shipping
Shipping Type
Features
Express Mail Service
(EMS)

Top priority

among international mails is placed on this service! Posts will be delivered for

approximately 2-4 days

to addressee all over the world.
Details of Express Mail Service (EMS)
Airmail
Fees are relatively high since posts will be sent by air. Delivery will be made

approximately 3 - 6 days

.
Economy Air
(SAL)
This is a service where international mail is handled as surface mail in both Japan and the destination country and as airmail between the two countries. The service is

faster than surface mail while the cost is lower than airmail

.

For details. please refer to Economy Air (SAL)
It takes approximately 6 to 13 days for mail to arrive at the destination.
In some cases, it may take longer due to the handling system of the destination country.
Surface Mail
Sent by surface. While delivery takes 1 to 3 months, the rates are

reasonable

.
Insurance Claim Instructions
Treasure-Japan is not responsible for any damage or loss during transport.
Please note that we never use "unregistered" mail.
Steps for claiming your insurance.
If your item was damaged during transport,please make contact with the carrier and us immediately. Then, please leave the package as it is to make a claim.
After making a claim, the carrier will contact with EMS Japan to initiate the claim procedure. This process takes up to 2 weeks,and the compensation will be paid after 6 month.
WE DO NOT HELP YOU MAKE CLAIMS FOR:
Items that are marked as JUNK , SOLD AS-IS or NO CLAIM at auction.
Electronics that are damaged prior to shipping or after arrival.
Items claimed after 7 days or arrival , please make your claim immediately.
Fraudulent claims.